Moment-Shear-Load Relations
Consider the simply-supported beam subjected to distributed load q(x) at right. By isolating an element of length dx, and applying the equilibrium conditions, relations between moment, shear and distributed load can be derived:

Note the convention:
A shear force is termed POSITIVE if in acts on a positive face in a positive direction (or on a negative face in a negative direction). A positive shear force on the right-face - the positive x-face - acts upward, in the positive y-direction.
A positive moment causes a beam to bend into a "happy face"-shape. A moment is POSITIVE if it acts on a positive face about a positive axis (or a negative face about a negative axis). Here, the moment on the right face acts on the +x-face, about the +z-axis, which is out of the plane (screen, paper).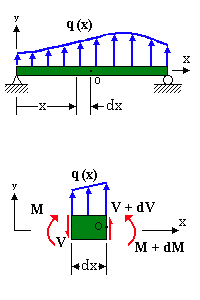 q(x) should be w(x)
and constant over dx.