Thin-Walled Torsion Member
In Ch. 3, we introduced the thin-walled circular torsion member at right. The shaft is of length L, average radius R, and thickness t (t<<R), and is subjected to torque, T. Here, the left end (A) of the shaft is fixed, and the right end (B) rotates by angle q, called the angle of twist .

If the torque, cross-section and material are all constant over the length, then the following relationships hold for shear strain and shear stress:

Combining the above equations with Hooke's law:
t = Gg
give the angle of twist:
J is the Polar Moment of Inertia.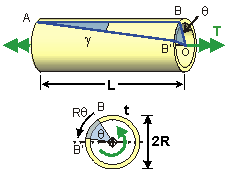 Thin-walled circular shaft