Beams
A beam is a structural component that supports forces transverse to its structural axis. Examples of beams include:
aircraft wings;
floor and ceiling joists;
bark benches;
MEMs devices.
Internally, beams support both shear forces and bending moments. These internal loads are typically described by use of shear force and bending moment diagrams.
A module explaining how to create shear and moment diagrams can be accessed by clicking here (unclick pop-up blocker).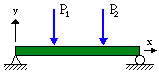 Beam