Example 7b.1
Given: Consider the road sign of Example 2b.5. The forces, moments, and torque acting at a cross-section near the base of the mast are shown and right (Cut A-A).
Req'd: Determine the stress states at the surface of the mast, at Points A, B, C and D. Point :
• A is on the windward side (facing the wind),
• C is on the "leeward side" (back side),
• B is on the left side, and
• D is on the right side of the mast.
Draw 2-d stress elements as you look from the outside of the mast inward.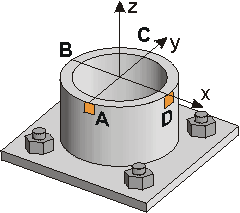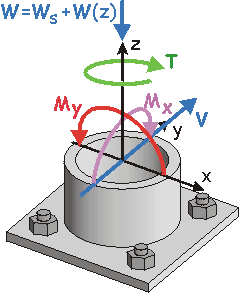 Forces, Moments and Torque acting at Cut A-A.
Road Sign