Sol'n: Consider the stresses acting on the bolt. The upper and lower plates transfer P/2 to the bolt. The average bearing stresses on the top and bottom segments of the bolt are:

The middle plate transfers the entire force P:

Therefore, the Maximum Average Bearing Stress in the bolt is:
sB, max = 33.3 MPa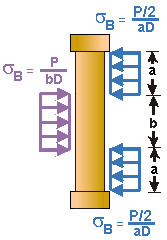 Stresses acting on the bolt.