General Stress
Stresses actually vary from point-to-point in a component. A material point can be thought of as an infinitesimal cube aligned in an orthogonal coordinate system (e.g., x-y-z). Each face of the cube has three stresses acting on it:
a normal (axial) stress perpendicular to the face,
two shear stresses parallel to the face in the other two coordinate directions.
Applying equilibrium, it can be shown that there are only 6 unique stresses needed to describe a state of stress:
(sx ; sy ; sz ; tyz = tzy ; tzx = txz ; txy = tyx )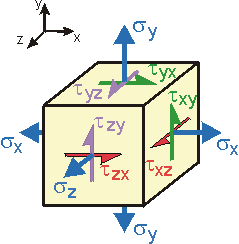 3-dimensional stresses drawn in their positive senses.